WordPress is open source and free
WordPress is the most widely used content management system in the world
By separating design and code, WordPress is quickly customizable
Themes and plugins ensure the rapid implementation of websites
WordPress is constantly being developed and improved
With WordPress, websites can be created via an Internet browser. The big plus: you don't need any programming skills or graphic design skills for the first steps. With WordPress, you can easily create a website. The system consists of a front and a backend. The frontend is what your visitors see from your website. In the backend, you manage the content and functions of your WordPress site. The backend is password protected, so only you can make changes to your site.
Before using it, you have to install WordPress, which usually works fully automatically. You can read about the technical requirements your hosting environment requires for this in the article "Technical requirements for WordPress." WordPress is based on the idea of open source and is free of charge.
How widespread is WordPress?
Due to its high user-friendliness and the free provision of the software, WordPress has become the most popular content management system (CMS) worldwide. According to a study by W3Techs (as of 2018), more than 30 percent of all websites use WordPress as CMS. The following graphic illustrates how far WordPress has now left other popular content management systems behind: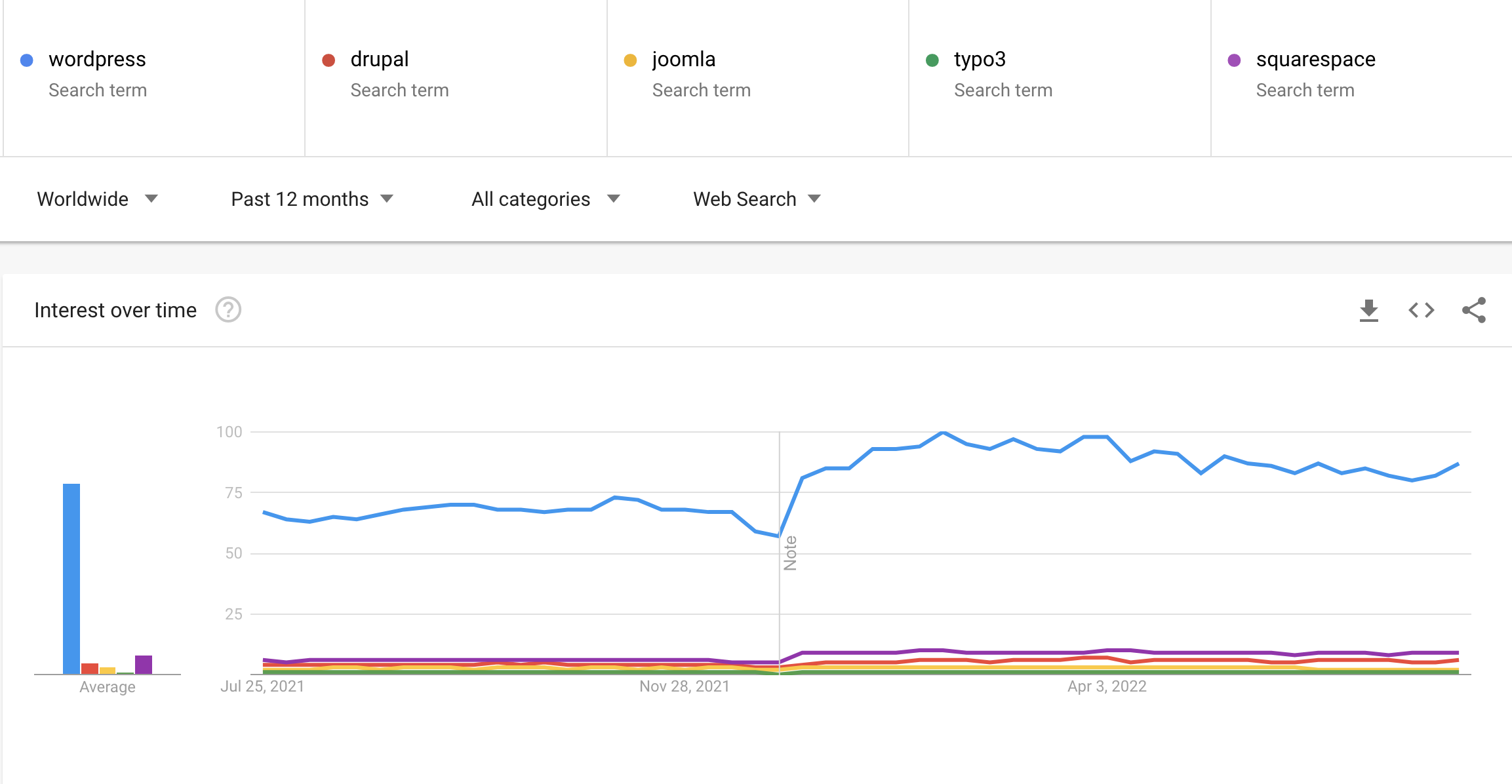 The blue line in the graphic shows the course of the search query "Wordpress" worldwide and reflects the interest of Internet users in this system. While the search trend with other systems, such as "Drupal", "Joomla" or "TYPO3" is decreasing, WordPress continues to detract from its market competitors.
Another reason for the ever-increasing distribution of WordPress lies in the continuous development. At short intervals, functions are constantly improved and new functions are added, so that WordPress continuously develops into a full-fledged CMS, while other systems have stopped in their development.
Plugins and themes - a successful concept
WordPress themes
In WordPress, content and design are clearly separated from each other. With so-called "themes" you can provide your website with a completely different design in just a few steps. You can easily select and install these design templates in the backend. Here, too, there are a variety of free "themes" that you can simply use for free. The first installation installs the current standard design of WordPress.
WordPress plugins
Plugins are small (or larger) programs that add more, ready-made functions to your WordPress blog. Similar to the templates, the plugins are installed and activated via the plugin directory with just a few clicks. So you can easily add more functions to your blog or page without programming knowledge. Currently, more than 55,000 extensions are registered in the WordPress plugin directory. In our article "WordPress Plugins" you will find everything you need to know about the extensions and an overview of the most important plugins.
The WordPress story
Finally, we would like to give you a few facts about the creation of WordPress. In 2003, the developer Matt Mullenweg began developing WordPress. On the basis of the already existing software "bs/cafelog" he developed the open source software "WordPress", with which it should be possible to publish articles and content on websites quickly and easily. WordPress was already downloaded 1.5 million times at the beginning of 2005. The WordPress fan community grew steadily, through the open software of WordPress, developers were able to further develop the core of the application. New plugins and designs were published worldwide by developers and designers and thus contributed to the huge success of WordPress.
The commercial branch - Automattic
At the beginning of 2005, the platforms wordpress.org and wordpress.com were launched. Wordpress.org is the platform for free software, here you will also find the latest downloads and updates. With Automattic, Mullenweg founded a company in 2005 that offers wordpress.com, an opportunity to install a WordPress blog for free of charge. Costs only arise if you want to connect your site to a domain or use support.